Vraag me niet waarom, maar ik werk nergens zo geconcentreerd als in een café. Of weet je, vraag het me maar wel, want ik vermoed waar het door komt. Ik kan geen kant op, zit genageld aan m'n tafeltje. Zelfs een tocht naar de wc kan het verlies van je laptop betekenen. Thuis kan ik altijd nog de afwasmachine uitruimen of schoenen poetsen, in het café moet ik schrijven. Daarnaast is er de sociale druk van andere bezoekers; ik zit er in m'n eentje om te werken, dus doe dat dan ook. Nodeloos rondklikken op facebook.com is opeens genant. Daarnaast voelt het romantisch, lekker schrijven in het café. Dat deden de Groten der Aarde vast ook, in koffiehuizen. Meneer Beckett staat vast op het punt een notitieblokje te pakken, even wachten tot die fotograaf klaar is: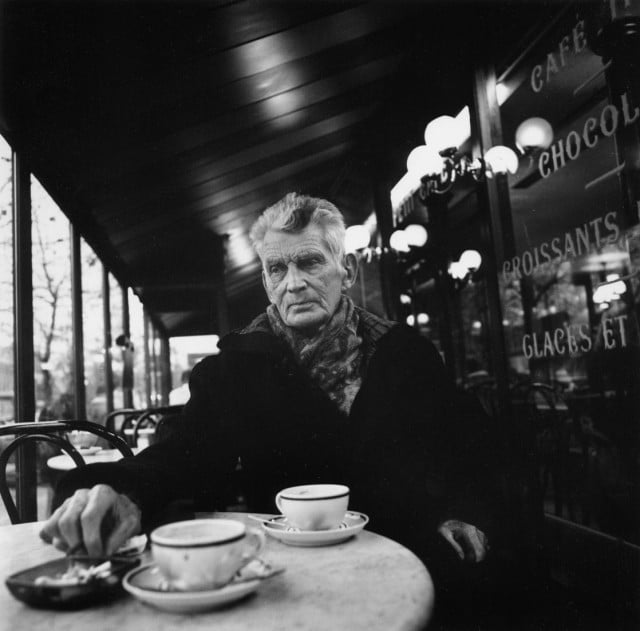 Maar soms kan ik niet in het café schrijven. Omdat de koffierekening gedurende de maand te hoog is opgelopen, of omdat ik in een kantoor zit. Voor die momenten is er Coffitivity, een website waar je de geluiden van een café kan afspelen. De motivatie van de makers berust op wetenschappelijk onderzoek, schrijven ze:
Research shows it's pretty hard to be creative in a quiet space.

And a loud workplace can be frustrating and distracting.

But, the mix of calm and commotion in an environment like a coffee house is proven to be just what you need to get those creative juices flowing.
Koptelefoon op, cafégeluiden aan, schrijfprogramma IA Writer open en tikken maar!