,,In difficult times, we don't need eloquence, we need explanation."
Dat kwam Bill Clinton nog geen twee weken na een vermoedelijk slopende verkiezingscampagne op het 24 uur van reclame-congres in Amsterdam vertellen. Na zijn weergaloze speech op de Democratische Conventie waar hij aan de hand van feiten uitlegde waarom de Democraten aan de macht moest blijven – Arithmatic! -, noemde Obama hem gekscherend 'The Secretary Of Explaining Stuff'. Clinton ziet het als een geuzentitel.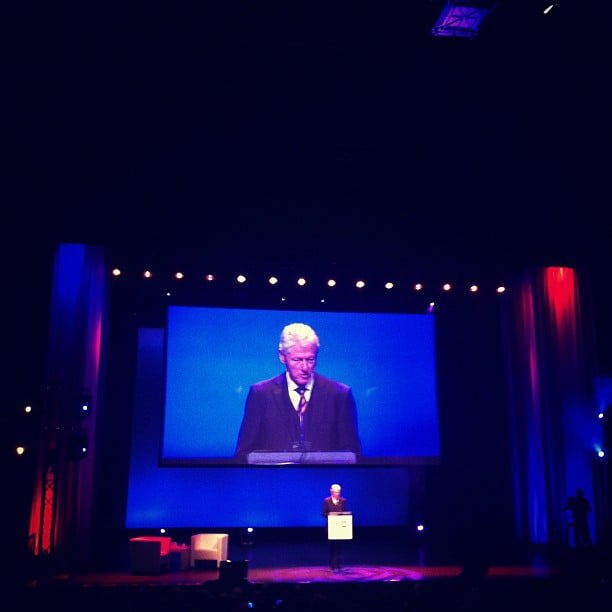 Volgens hem hebben we in crisistijden uitleg nodig. ,,Als je het moeilijk hebt omdat je door de bankencrisis je baan kwijtraakte, wil je maar één ding: begrijpen waarom het gebeurd is'. Zodat je er wat aan kan doen (bijvoorbeeld op de Democraten stemmen, neem ik aan). Clinton wil die uitleg graag geven en riep de aanwezige reclamemakers op zich aan te sluiten bij 'explanation movement'.
Het publiek klapte hard, stond praktisch op de stoelen, maar gaan ze morgen niet gewoon verder met ringtones en verzekeringen verkopen? Volgens Clinton is dat geen probleem, 'want marketing houdt de economie draaiende'. Maar wie goed oplette, hoorde dat Clinton eigenlijk wilde zeggen: help me met die mooie spotjes van jullie uit te leggen wat er in Godsnaam allemaal gebeurd is en hoe we de grote uitdagingen van deze tijd aan moeten pakken.'
Het mooie aan een Clinton-speech is dat hij er zo ongelooflijk veel observaties in kwijt kan. Van opgedroogde rivieren bij overbevolkte Chinese steden tot het gevaar van drones ter grootte van insecten: Clinton schaart het allemaal in drie grote thema's – 1) het behoud van onze identiteit in een veranderende wereld, 2) het gevaar van klimaatverandering en de zware belasting van het milieu en 3) technologische mogelijkheden en bedreigingen – en somt vervolgens de weg naar de oplossingen op. We moeten volgens Clinton durven experimenteren.
,,Grote bedrijven moeten niet bang zijn voor mislukte initiatieven, zolang ze maar blijven streven naar snellere, goedkopere en betere oplossingen. Let the geniuses keep trying, until they hit jackpot."
Daar kan ik zelfs als journalist wat mee. We moeten durven op ons bek te gaan. Met een berekende houding komen we niet ver in deze revolutionaire tijden. Bedankt, meneer de president.