De zonde van elke scholier: je boekenlijst doorwerken aan de hand van samenvattingen. Even naar scholieren.com browsen, de belangrijke punten in je hoofd stampen en je door de overhoringen heen bluffen. Dat deed ik ook. Ik bouwde liever websites dan dat ik een boek moest openslaan en haalde magere zesjes dankzij scholieren.com. In de zesde van het VWO las ik de boeken echt en werden de zesjes gecompenseerd met een mooier cijfer – 'omdat ik zo'n ontwikkeling had doorgemaakt'. Hoewel ik blij ben dat ik me de taal van HTML machtig heb gemaakt, is het missen van al die literatuur zonde, heel zonde.
Inmiddels verslind ik boeken, daar in aangejaagd door m'n boekenclub Literaturfest. Maar de basis die ik had kunnen opbouwen, mis ik nu. Een basis zoals homo universalis James Franco bijvoorbeeld wel heeft, vertelde hij aan het prachtige blog Days of Yore:
When I was a little older, I guess eighth grade, my friend introduced me to Kerouac. Then we started reading all the Beats together. And then my dad gave me As I lay Dying, and then I read a lot of Faulkner, Hemingway, all that stuff.
Kan geen kwaad, lijkt me zo. En inderdaad, Franco kreeg daardoor al vroeg zin in schrijven:
I remember very clearly reading Heart of Darkness, and I don't know why I thought this, but it's like when somebody does something well, you think: "Oh, that's easy!" I remember reading it and thinking, "Oh yeah, I'm going to do this, I can do this. He's telling a story, I can do that."
Resultaat: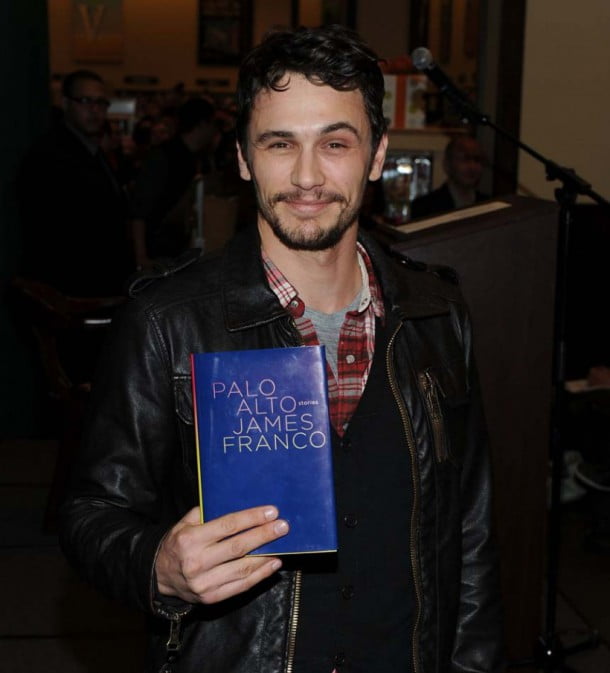 Tijdens m'n universiteitsjaren begon ik meer te lezen – met uitspattingen in de vakantie – en haalde ik m'n eerste klassiekers in – 1984, In Cold Blood, Vestdijk etc. Maar de lol met lezen kwam pas echt toen ik voor het eerst vrienden kreeg met wie ik eindeloos over boeken kon praten. De heren De Gier en Donk, en later Van de Meer, met wie ik inmiddels Literaturfest opneem.
Om te voorkomen dat duizenden scholieren as we speak onbewust de beslissing nemen niet te lezen, simpelweg omdat ze nooit leeftijdsgenoten ontmoeten die een (eventueel latente) liefde voor boeken delen, richten we ons met Literaturfest tijdens de leesactie van Stichting Collectieve Propaganda van het Nederlandse Boek (CPNB) op scholieren. We bespraken het subject van de campagne: Het leven is vurrukkulluk, de eerste roman van Remco Campert. In het Vondelpark, uiteraard:
Tot onze grote vreugde heeft Nederland Leest! de podcast op haar site geplaatst. Meer van dat soort podcasts luisteren? Check literaturfest.nl.