Je zou er bijna aan wennen, die revolutie in Syrië, als er geen journalisten als Harald Doornbos waren. Hij twittert dagelijks het dodental van die dag door:
Vandaag 146 doden in Syrie

— Harald Doornbos (@HaraldDoornbos) April 2, 2012
Vandaag ontdekte ik via een tweet van Alexander Pleijter dat een undercover journalist van Al Jazeera met zijn iPhone een documentaire over het gewapend verzet in Syrië heeft gemaakt. Met zijn stem door de vervormer, zittend in tegenlicht, vertelt de journalist hoe hij soms met studenten, dan weer in openbare bussen en in extreme gevallen rennend door de bergen door het oorlogsland reisde.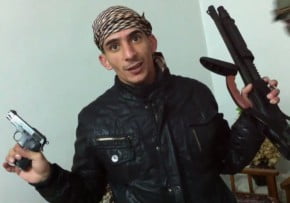 De journalist wil zijn identiteit niet bekendmaken om de veiligheid van zijn contacten in Syrië te waarborgen. Hij volgde de charismatische revolutieleiders die met zelfgeschreven liederen de bevolking elke avond weer naar de protesten weten te krijgen, ook al liggen scherpschutters continue op de loer. ,,De leiders die hun gezicht niet verbergen, krijgen het meeste respect van de bevolking, want zij zijn nergens bang voor", vertelt de journalist. Via YouTube en Facebook wisselen de lokale leiders nieuwe liederen uit, zodat door het hele land onder begeleiding van trommels dezelfde protestsongs worden gezongen. In opstandige buurten kijkt de dansende bevolking op een groot scherm naar de live-uitzending van hun demonstratie op Al Jazeera.
De undercoverjournalist bespreekt ook hoe de demonstranten moed putten uit hun geloof: ,,Ik sta als enige in de groep te trillen, waarschijnlijk omdat ik ongelovig ben." De demonstranten spreken af in moskee's, want daar durven de veiligheidsdiensten niet te komen. 's Avonds roept de bevolking vanaf balkons ter bemoediging 'Allahoe akbar', 'God is de grootste', naar elkaar, veiligheidsdiensten antwoorden met geweervuur.
In een andere indrukwekkende scene heeft de journalist met de cover flow-techniek getuigenissen van gedeserteerde soldaten achter elkaar gemonteerd. Zij vertellen waarom ze overliepen naar de revolutionairen: omdat hun familie was vermoord, of omdat de soldaten zelf door veiligheidsdiensten gemarteld werden.
Ik heb groot respect voor Al Jazeera dat het zulke reportages durft te maken. Dat het de Syrische bevolking moed geeft, laat deze documentaire op verrassende wijze zien. In opstandige buurten kijkt de bevolking op een groot scherm naar de live-uitzending van hun demonstratie op Al Jazeera.
,,Veel van de geïnterviewden leven al acht maanden ondergronds in het verzet. Veel van hen kwamen tijdens de opnames om", vertelt de journalist. Hij besluit met een anekdote die aantoont hoe Syrië veranderd is en hoe moedig de revolutionairen zijn:
I was walking through Homs and sniper fire started, and I was the only one in the crowd that actually flinched. And a father with his kids was standing by the door and they were sort of laughing at me and pointing, saying 'why don't you fall on the floor while you are at it?'

It's amazing how Syrians, who never heard gunfire because they lived in a very peaceful country, have gotten used so quickly to living in a state of war, how to respond to it. They've very quickly become a mobilized revolutionary society, whereas before they had no experience of doing this.
Al Jazeera publiceerde de documentaire twee weken geleden, maar door een blogpost van Mashable krijgt deze nu eindelijk de verdiende aandacht in de blogosphere: