I reckon that if the five dominating media companies joined forces, 80% of original-content news would be owned by that collective.

The five common-front news houses would need to make just one move: no more streaming of free news. The result? No more free news for Google News. No more Facebook news feed. If you want the news, you'll have to buy it.
According to marketing author Martin Lindstrom, this is how the news business can survive Facebook. He wrote this in response to Facebook's offer to publishers to host their content on their superfast, steady and mobile-loving social network (which David Carr reported for The New York Times).
Lindstrom thinks that newspapers should join forces just like the Swiss watch industry did when they launched Swatch together in the eighties to compete with cheap Japanese watches.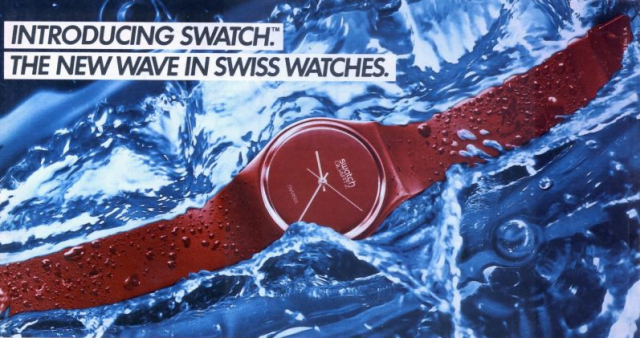 (Dan Gillmor suggested a similar approach in 2009 – be sure to read the interesting discussion that followed.)
I think this would just lead to more aggregation sites. A bunch of bloggers would read the paid mega sites and then summarize the articles for a bigger audience.
I do expect a loyal group – small, but loyal – to happily pay a subscription fee to read world's most in-depth and impressive longform articles (just as Dutch people are now paying for newspapers articles on Blendle).
Should publishers accept Facebook's offer?
That leaves the question of Facebook's offer to host articles of legacy media, because their own sites are loading painfully slow on mobile devices.
(I for one, haven't recently experienced a crappy mobile experience on legacy media sites. I could read The New York Times column about this matter just fine on my mobile. Maybe it's because I live in a 4G country.)
Joining such a content deal with Facebook sounds like a race to the bottom to me. It's basically surrendering. Admitting that you're nowhere without their superb platform.
How we use Facebook to attract more members
At De Correspondent, we try to profit from Facebook without becoming too dependent on them:
Last month, 79 percent of our social traffic came from Facebook. 232k of those visitors were new users.
As soon as someone likes our page (as 82k people did) we treat it like a trial subscription. We share our best articles with those likers and every time they've read one, we tell them we're ad-free and hope they like the idea of making new stories like the one they've just read possible by paying 60 euros a year for a membership.
Last month, 267 people became a member of De Correspondent via Facebook (€60 p/y). 0.12% of the new users who came through Facebook became a member.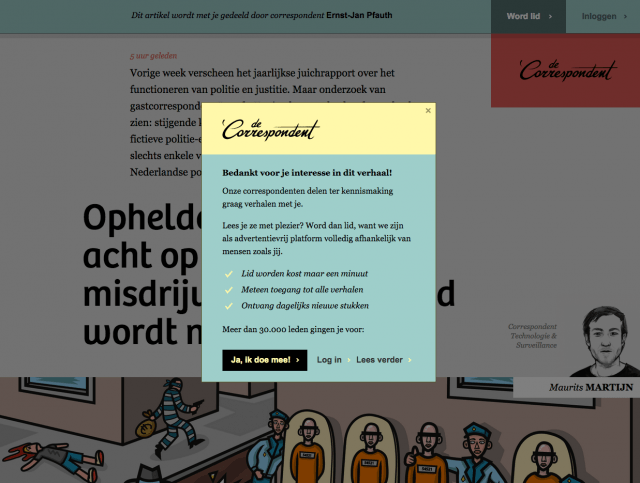 The conversion rate is still pretty low, but 267 new members on a total membership of 28.000 is a monthly increase of almost 1 percent in our membership, which already sounds more hopeful.
We'll keep trying to use Facebook likers as trial members and hope not to become too independent on the platform (as in: what if members just read us when we share a link on Facebook?) and instead use it for our own good.
I'll keep updating you on that challenge, of course (follow through RSS or Twitter).